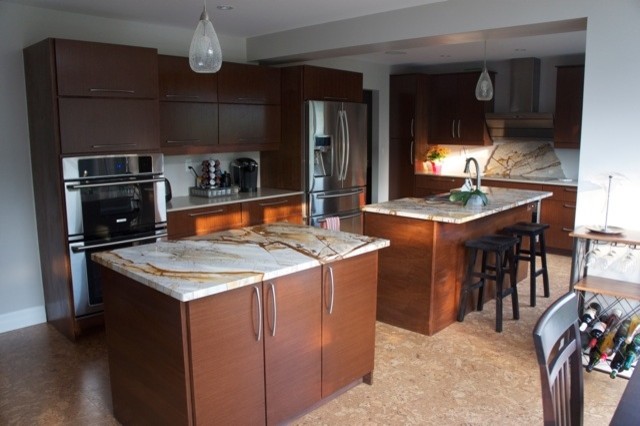 Jbroten's recently renovated kitchen shifted from a one-person U-shape layout to a space that can handle two or more cooks with ease. Multiple counter work stations were musts, so two islands anchor the space: one for prep and one that facilitates cleanup. The dishwasher on the sink island also faces the cutlery and plate drawers, making cleanup easier.
by Sawhill – Custom Kitchens & Design, Inc.
»
Sarah Michalowski from Sawhill Kitchens worked with a family of five to design this multiperson Minnesota kitchen. Because they have three active, young children, this couple wanted a space that would allow for five people to sit at the island, do homework and cook — all without interrupting each other.
The unique island design allows for easy cooking, cleaning and eating. A prep sink in the middle divides the island into two areas, allowing people to do separate things while still having access to the sink. An appliance garage near the refrigerator allows kids to make smoothies without disrupting the workflow, and the desk stays out of the traffic route but in plain view.
When Houzz user Sue Hausmann remodeled her Ohio kitchen, she wanted it to be an open and easy-to-use space for her and her husband. The sink, with three bowls and two faucets, was a simple and straightforward solution. It allows two people to prepare food or clean up at the same time. Plenty of counter space, an open layout, a full-size refrigerator and freezer, and a double-drawer dishwasher help too.
Neal Nesbit of Shoreline Cabinet Company also designed this Wilmington, North Carolina, kitchen with two islands intended as separate work and entertaining spaces. One island has a prep sink and easy access to the refrigerator, range and main sink. The other island faces the dining area and has a beverage center, making it suitable for hosting guests away from the workflow.
Separate cooktops allow two people to cook at once, and a clear path between the island to the sink from the range makes for smooth traffic flow.