Advice I can offer:1. Think a lot about the stuff you have
. Are you a baker with lots of cake pans and cookie sheets? Do you have a lot of tall items, like juicers, blenders and mixers? How many wineglasses do you have? The configuration of your cabinets and drawers should be designed with all of this in mind. Make lists of what you have and go from there.
2. You probably don't need a fancy restaurant-style $6,000 stove, even though they are pretty.
3. Think about the light you need and then increase it by 50 percent. Our contractor talked us out of additional pot lights, and it is my biggest complaint about the new kitchen. Light that baby up like a football stadium.
4. There is almost nothing as useful as really big, deep drawers
for pots, pans and other large items.
5. A tile backsplash is not necessary, but if you can swing it, it sure does make a difference. Tile is the jewelry of the kitchen.
6. There is no such thing as a perfectly indestructible countertop. I love our white Caesarstone — it doesn't stain, it doesn't burn, and it doesn't need any special care, but it has a few small chips in it already.
Those are my pearls of wisdom. If you've gone through a kitchen remodel, what are yours? Feel free to share before and after photos. We can't get enough of those transformations.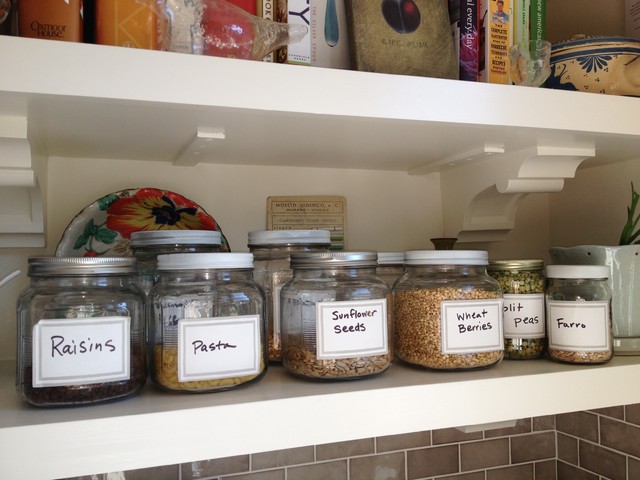 AFTER: I still have open shelves, but now they are for cookbooks and dry goods. Our dishes and glassware are all in cupboards, where they stay nice and clean.
AFTER: The old wall would have gone though the middle of the new dining table. Having an open kitchen has completely relieved me of ever feeling trapped in the kitchen while my family or guests hang out without me.
AFTER: The whole, open shebang.
My pullout spice rack is fine, but it was actually designed for bottles of oil and vinegar and the like. Because it is too far away from the stove and I've found that I don't like reaching down for such things, I keep the bottles in an upper cupboard right next to the stove, along with the spices I use most often. So now I have this whole rack dedicated to spices I use only occasionally. I call it my cardamom cupboard.
(original article from Houzz:http://www.houzz.com/ideabooks/6697429/list?utm_source=Houzz&utm_campaign=u240&utm_medium=email&utm_content=gallery13)